SAVCI ENVIRONMENTAL TECHNOLOGIES, LLC
Proudly Serving Our Clients Since 1997
Locations:        COLORADO  |  ARIZONA 
ARD Characterization for an Abandoned Copper-Zinc Mine in North-Central AZ  – Confidential Client
S.E.T. developed and managed the mapping and characterization efforts to locate and assess ARD materialshistorically deposited along drainages of an inactive underground Cu-Zn mine.  For this project, the project team conducted sampling and digital mapping of the channel sediments, soils, waste rock deposits and tailings.  ARD potential of these materials was estimated based on soil pHand static Acid Base Accounting (ABA: ANP-AGP)test results. The ARD sample locations were digitally recorded along with associated attributes (soil/rock types, photographs, field and laboratory results) utilizing hand-held GPS units.   The field and laboratory data recorded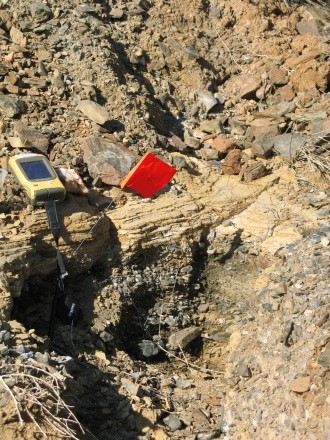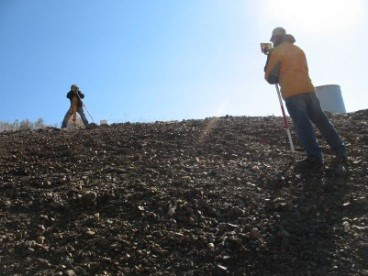 in the GPS units were analyzed utilizinga Geographic Information System (GIS) program to categorize each sample location based on its ARD potential.  A TopCon GTP-3003W Total Station and FC-100 Controller in the field was also utilized to digitally map the ARD boundaries (in-3D) and to estimate the ARD material volumes.  Based upon the results of this characterization, the potential environmental liabilities associated with the site were estimated and an appropriate ARD Mitigation Plan (e.g., for this project: removal and capping of ARD materials as the preferred alternatives) was developed.
3D ARD Mapping with Total Station
Unsaturated Zone Hydrology & ARD Prediction: Waste Rock Stockpiles – Freeport McMoRan Copper & Gold – Inactive Ajo Mine, AZ
Hydrologic and ARD assessments were performed for waste rock stockpiles at the Ajo Mine site in Arizona under the oversight of ADEQ (Supplemental Determination of Applicability Project – Aquifer Protection Permit Application). 
The objective of the assessment was to determine if the stockpiles had reasonable probability of discharging potential pollutants (low pH solutions with elevated inorganics and sulfate – ARD) to an underlying aquifer.  The hydrologic assessment of discharge potential was conducted by evaluating climate conditions then comparing predicted net infiltration ratesto established performance criteria typical of designs for surface water impoundments.
In addition, this assessment project included estimating the time frames for both depleting available moisture storage in a waste rock stockpile and the time for potential seepage emanating from a waste rock stockpile to migrate to groundwater.  This hydrologic assessment, combined with a geochemical assessment of the waste rock, demonstrated that there was not reasonable probability of discharging pollutants to groundwater. 
The assessment results were presented to ADEQ and a regulatory agency approval was obtained for the No Further Action alternative, resulting in an environmentally sound alternative that saved millions of dollars for the client.
The results of this project were published in 2002 SME Annual Meeting (February 25-27, 2002).  Savci, G. and Williamson, A.L. Hydrologic Assessment of Waste Rock Stockpiles: A Case Study from Ajo Mine, AZ.
SELECTED PROJECT DESCRIPTIONS
Since 1997, Savci Environmental Technologies, LLC (S.E.T.) , has successfully developed, managed, and completed several hundred multi-disciplinary environmental science and engineering projects for mining and industrial clients and legal firms specializing in environmental issues with project budgets ranging from several thousand dollars to more than $20M. The culmination of these projects managed by S.E.T. has yielded significant financial savings to his clients.
Below are several representative project descriptions.
Reclamation Cover Design & Construction for Tailings and Waste Rock Stockpiles – Confidential Client, Southern Arizona
S.E.T. completed soil and tailings characterization efforts to assess the radiological (TENORM) conditions of Cu-Zn mine tailings and the suitability of clays in the area as a cover material for reclamation activities.  For this assessment, state-of-the-art GPS/GIS technology was utilized to locate, map and determine the aerial extent and volumes of materials requiring remediation.
A repository for the radioactive tailings and soils was designed.  Over 100,000 cy Cu-Zn tailings and ~35,000 cy of soils with elevated levels of U and Ra were deposited in the repository and covered by 2-ft of engineered soils (store and release) cover.  The thickness of the soil cover was designed based on Performance Criteria (i.e., for infiltration, erosion potential, vegetation stability, desiccation potential, and Radon (Rn) Flux).  The Rn-Flux measurements were conducted in-situ utilizing Large Area Activated Charcoal Collectors (LAACC).  
S.E.T's team members designed the reclamation plan and managed and successfully completed the reclamation/construction activities on time and on-budget.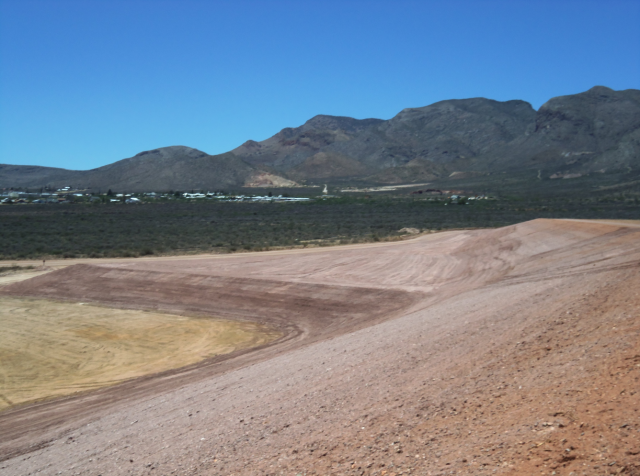 Engineered Improvements Design for Mule Gulch Channel - Freeport McMoRan Copper & Gold, Bisbee, AZ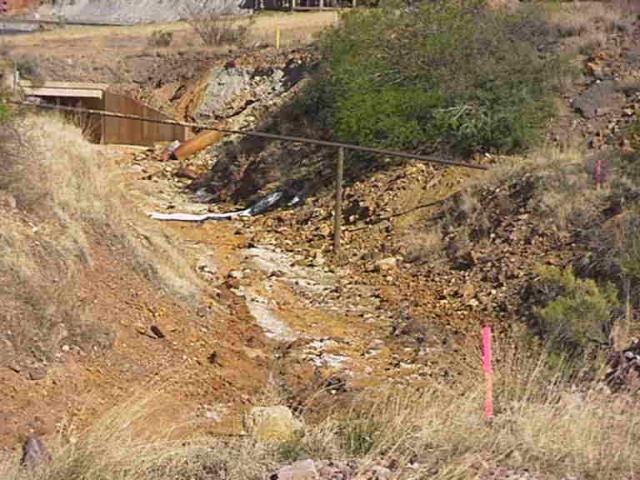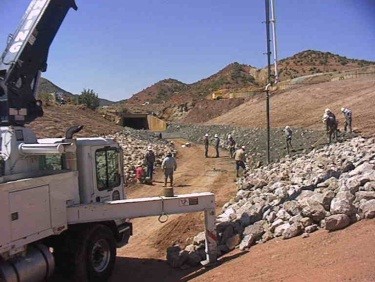 Double-click to edit text, or drag to move.